The governor of Beirut, Judge Ziad Chbib, honored the President of the Global Council for Tolerance and Peace (GCTP), HE Ahmed bin Mohammed Al Jarwan, underlining his efforts on an international and continental level, for the inculcation of the culture of tolerance, dialogue, acceptance, facing extremism and radicalism and terrorist dogma, as well as spreading the values of peace.
Governor Chbib held a dinner banquet in the honor of HE Al Jarwan at Le Gray hotel yesterday evening, in the presence of parliamentary and intellectual personalities, as well as the Ambassador of the United Arab Emirates Dr. Hamad Al Shamsi, the office-in-duty of the Embassy of the Saudi Arabia, Walid Al Bukhari, and a number of the city council members.
He also presented to Al Jarwan the shield of Beirut governorate.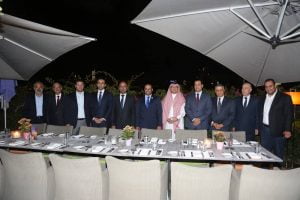 Governor Chbib gave a speech, confirming that "Beirut is the history and center of humanitarian, intellectual and cultural messages. It is a pioneer in diversity and dialogue, and a model for tolerance and peace."
HE Al Jarwan also gave a speech, in which he considered that "Beirut is a white flower in the world, and History shows its culture, openness, and deep-rooted symbolism as the habitat of freedom, diversity, dialogue, and cultural, religious, intellectual and social pluralism, which enriches Lebanon, and the unique Lebanese humanitarian experience."
HE Al Jarwan explained the "goals, principles and work mechanisms of the Global Council for Tolerance and Peace", and announced that "the International Parliament for Tolerance and Peace will hold its second session in Albania next October, in order to follow up with the actions of the first session, and set a strategic roadmap to spread the culture of peace and tolerance all over the world.