With Christmas fast approaching, young Muslims in Mosul, Iraq, have launched initiatives to revitalize and rebuild the ruins of the city's churches as an attempt to repair the heavy destructions caused by ISIS (Islamic State of Iraq and the Levant) with the aim of encouraging the return of displaced Christians to their homes.
In the area of Al-Arabi neighborhood on the left side of Mosul, where the monastery of St. Korkis is located, the young Muslim Maslawi Bandar Fares and his companions are engaged in uncovering damage done to the monastery where rubble, stones and destruction fill the entire place.
Bandar, 21 years of age, along with a group of young men, are trying to revive the monastery and reopen it in a race against time. With Christmas around the corner, Bandar and his companions to breathe new life into the monastery by cleaning it anew and removing all the debris that is left in order to help their Christian neighbors to celebrate and feel the Christmas spirit during this joyful time of the year. Bandar also wishes to crown his work by setting up a decorated Christmas tree in the church's square.
Bandar has been partnering with many volunteer teams in relief and humanitarian campaigns for war-affected and displaced families and campaigns to clean up the streets of Mosul, schools and universities. He then establishes with a group of young men and women a team of their own which they named "persevering for goodness" where he said and we quote: "We now number about 40 people and our campaigns are the result of our our personal efforts and the donations that charitable people provide us with. As a matter of fact, Naseer Shamma, the famous Iraqi artist and oud player, lended us a helping hand in the renovation of the University of Mosul's academic departments."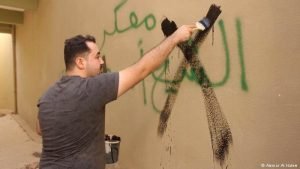 "On the twenty-fifth of this month we will organize the largest and first mass on the occasion of the birth of the Christ at the Church of St. Paul Chaldean located in the "engineers'" neighborhood on the left side of Mosul", says Ammar Al Hatem (23 years of age), young Muslim Maslawi man and a civilian activist and a member of the "Nineveh Youth Cell", founded by a group of activists and bloggers through social networking sites to support the Iraqi security forces during the Nineveh liberation operations with relief and humanitarian campaigns. In fact, this group was one of the first ones to participate in the restoration of the churches among which is the church of "The Heart of Jesus". He added: "We are going to clean the church and wipe out the ruins and we are going to decorate the Christmas trees and when our work is done, we will invite the rest of the displaced Christians to return back to their homes in Mosul."