The President of the United Ambassadors-at-Large for Global Integration-USA, Ambassador Grazella Seif, has been awarded the Golden Medal by the International Organization for Interfaith Speech and Civilizations in the World (IOISCW) following the renewal of her term as President of the Union with a new election in America.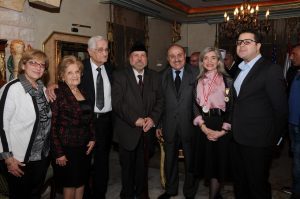 The International Medal Ceremony was held during an official celebration organized by the institution of her grandfather, the late expatriate Adib Youssef Karam, in Ftouh Keserwan amid popular receptions. Signs were distributed on all roads by municipalities, associations, sports clubs and public figures, especially in her hometown Fatqa and her residence town Kfour, in which it was decided to celebrate near the memorial of President Adib Karam.
Along with cheers and applause, Ambassador Graziella Seif received the Golden Medal of First Class from Sen. Mokhles Al-Jeddah, the President of IOISCW, who attended precisely to present her the medal, praising her vision of the world and her embodiment of the path of the Lebanese who truly represent "the message that Pope John Paul II spoke about", recalling the famous Lebanese writer Gibran Khalil Gibran who said: " If Lebanon were not my country, I would have chosen Lebanon for Homeland." Al-Jeddah also presented her the title of "Sponsor of Dialogue of Religions and Global Civilizations" in honor of her generous patronage of the "Dialogue of Civilizations and Religions in the World and Lebanon." Prof. Michel Jeha followed with a poem, briefing an integrated process of sustainable giving.
On her part, Ambassador Seif commended the efforts of the Lebanese Ministry of Information and continued to honor journalists, who she announced them as winners of a certificate of excellence, approved by the American Union, during a press conference, sponsored by Minister Melhem Al-Riyashi, last week. She honored Fadi Salameh for his work at Keserwan.com, Khosseh Seif for launching the first website in Fatqa, and George Matar for photography.
After that, she spoke to Radio Liban to announce the last surprise with her operatic voice due to the demand of all the attendees, who have refused to leave the place without hearing her singing songs, which they repeated, wishing and planning to meet again in the near future.