President Joko Widodo of the Republic of Indonesia received HE Ahmed bin Mohammed Al-Jarwan, President of the Global Council for Tolerance and Peace and his accompanying delegation in the Indonesian capital of Jakarta, stressing his support for the Council and its lofty goals in spreading tolerance and peace around the world.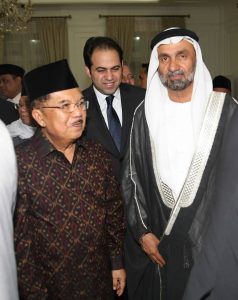 Al-Jarwan briefed President Widodo on the role played by the Council in the international arena and the latest developments in promoting the culture of tolerance and peace in the world, highlighting the need for joint diplomatic action and harnessing the mechanisms of soft power to face the challenges posed to international peace, through the expansion of extremist fanaticism and the spread of terrorism and racism and exclusion, in order to reach a world more tolerant and peaceful.
For his part, President Widodo praised the efforts of Al-Jarwan and the Global Council for Tolerance and Peace, emphasizing the importance of such role in promoting peace and spreading tolerance, expressing Indonesia's readiness to cooperate with the Council to reach these lofty humanitarian goals.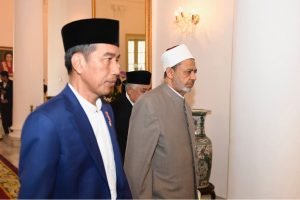 The meeting was held on the sidelines of the consultative conference of Muslim scholars and intellectuals around the world on the centrality of Islam, where President Widodo and Sheikh Ahmed Al-Tayeb, the Grand Imam of Al-Azhar, delivered their speeches emphasizing on the tolerance of Islam and its openness to all people, the importance of tolerance and peaceful coexistence, and the need to confront the fanatical and uncompromising ideas that do not belong to Islam and its noble message.