T. Balla on the International Day of Democracy: "Digital technology today gives ordinary people greater voice to their opinion"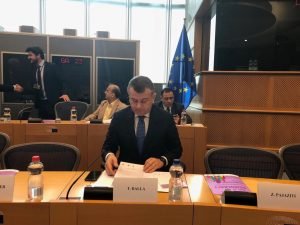 The President of the International Parliament for Tolerance and Peace (IPTP), Mr. Taulant Balla, participated today in the International Conference "EU Leadership for Democracy", organized by the European Parliament, on the occasion of the International Day of Democracy, along with political leaders, representatives of parliaments, activists working in the field of democracy support in the European Union and other countries, EU policy-makers, society organizations civilians, academics, etc.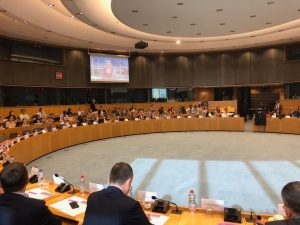 The conference was opened by EU High Representative for Foreign Affairs and Security Policy Federica Mogherini, who delivered a speech on the EU's support for the strengthening of democracy.
The President of IPTP, Taulant Balla, during the discussion on the role of technology and the challenges of involving ordinary people in decision-making, said that: "Political parties are an indispensable and irreplaceable mechanism for involving citizens in decision- making. Innovative political parties are improving their organizational and communicative structure to accommodate the growth of online inter-activity. Digital technology today gives ordinary people greater voice to their opinion, and in this regard, the concept of co-governance gains added value."
Participants in this conference, organized in cooperation with several NGOs, such as the European Foundation for Democracy (EFD), the European Network of Political Foundations (ENoP), the European Partnership for Democracy (EPD), the Office of the International Institute for Democracy and Electoral Assistance to the European Union (International IDEA), the European Commission and the European External Action Service (EEAS) discussed the current challenges facing democracies, the role of social media in politics, and ways to advance democracy through equal leadership and engagement.