Pope Francis arrives on historic visit to UAE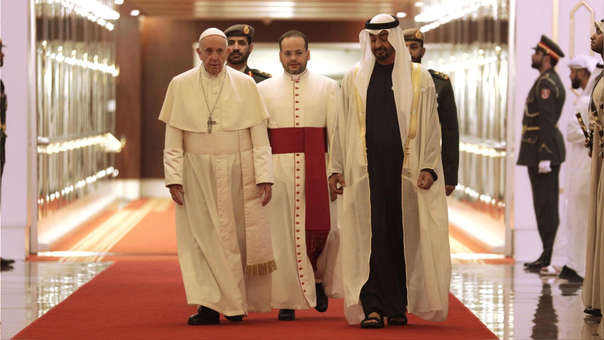 Pope Francis has arrived in the United Arab Emirates for the first ever visit by a pontiff to the Arabian peninsula.
He landed in Abu Dhabi where he was greeted by Crown Prince Sheikh Mohammed bin Zayed al-Nahyan.
The Pope will take part in an interfaith conference and on Tuesday hold Mass in which 120,000 people are expected to attend.
Some have been queuing for passes for Tuesday's Mass. One told AFP news agency the Pope's visit "opens doors for conversations about tolerance that the whole world needs to hear".
In a video message on Thursday, the Pope said: "Faith in God unites and does not divide, it draws us closer despite differences, it distances us from hostilities and aversion."
He paid tribute to the UAE as "a land that is trying to be a model of coexistence, of human brotherhood, and a meeting place among diverse civilisations and cultures".
While in Abu Dhabi, the Pope will also hold a meeting with Sheikh Ahmed al-Tayeb, the grand imam of Cairo's al-Azhar mosque, which is the highest seat of learning for Sunni Muslims.