MoU signing between the United Ambassadors-at-Large – USA and the Global Council for Tolerance and Peace
The United Ambassadors-at-Large for Global Integration in the United States, represented by its president, Ambassador Graziella Seif, signed a memorandum of understanding (MoU) with the Global Council for Tolerance and Peace, headed by HE Ahmed bin Mohammed Al-Jarwan who signed it personally and sent it officially, and was represented by a delegation from the Media and Communication Office of the Council.
The agreement was aired live on the official radio station of Lebanon, in the presence of local and international media.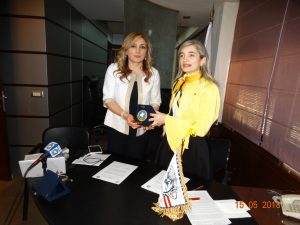 The Chief Communication Officer, Rita Hage, welcomed the guests on behalf of the Council stressing that: "When we see violence, murder, extremism and war raging in the countries of the region and the world, and when we see societies torn apart by racism and conflicts and disputes, it becomes necessary to confront these pests with a culture of tolerance and peace and work hard to spread them in minds and hearts, for the generations of people to develop tolerance, human values and acceptance of the other."
"For that, the Global Council for Tolerance and Peace was launched on November 2, 2017 in Malta, by the initiative of President Ahmed bin Mohammed Al-Jarwan, in order to promote a culture of peace and to reject racism and discrimination in all countries without exception, especially those that bleed due to the absence of tolerance and peace on their territories," Hage added.
Amb. Graziella Seif delivered a speech on behalf of the United Ambassadors-at-Large, the board community and the collaborating members in the United States of America, declaring "a new step moving towards the Global Council for Tolerance and Peace to collaborate through our basic aims as for the Global Integration around the world."
"Peace has lately showed to be hard to get." … "We can all be Great Leaders to achieve worldwide Peace if we dare to solve our conflicts without conflicts! If this Great Leader dares to conduct his community to be an icon for other Leaders too, it's only because he knows that to create Peace we can be a "One", but to achieve it we have to be "Two"," stressed Seif.
And added: "Today Ladies and Gentleman we are two. And within this two, I know we can be millions. Tolerance is peace, and inner peace leads to the global integration, so that million we achieve becomes a united ONE! It's always great to unite two minds, two sincere consents, as we have chosen today to lead millions as one!"
Afterwards, Seif signed the memorandum and received a medal from the presidency of the Global Council for Tolerance and Peace, as a token of appreciation for her international cooperation with the Council. She then received a phone call from the President of the Council, Ahmed bin Mohammed Al-Jarwan, praising the cooperation in promoting a culture of tolerance and peace.
At the end, commemorative photographs were taken and greetings were given to those of good will all over the world.