The Interim President Of The Costa Rican Legislative Council Receives His Excellency AlJarwan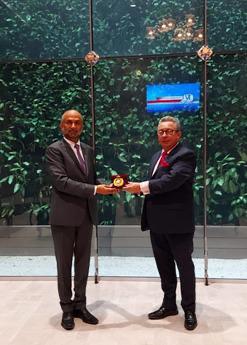 The interim president of the Legislative Council, Dr. Jorge Luis Fonseca, receives the President of the Global Council for Tolerance and Peace, H.E. Dr. Ahmed AlJarwan and his accompanying delegation in the capital, San Jose.
AlJarwan briefed the interim president on the work of the Global Council for Tolerance and Peace, where they shared opinions and information on the current and future activities.
Dr. Jorge Luis Fonseca congratulates Dr. AlJarwan, on the achievements of the Council.
AlJarwan was thanked and appreciated for the humanitarian aid and support provided by the Council to the country members of the International Parliament for Tolerance and Peace during the Corona pandemic.
His Excellency AlJarwan noted that Costa Rica is an exceptional source of inspiration when it comes to raising national awareness and developing policies to promote peace and tolerance. He also expressed his sincere gratitude for the great support provided for the organization of the LACG session.