In recognition of his accomplishments and honorable career: Aljarwan receives the Order of the Colombian Congress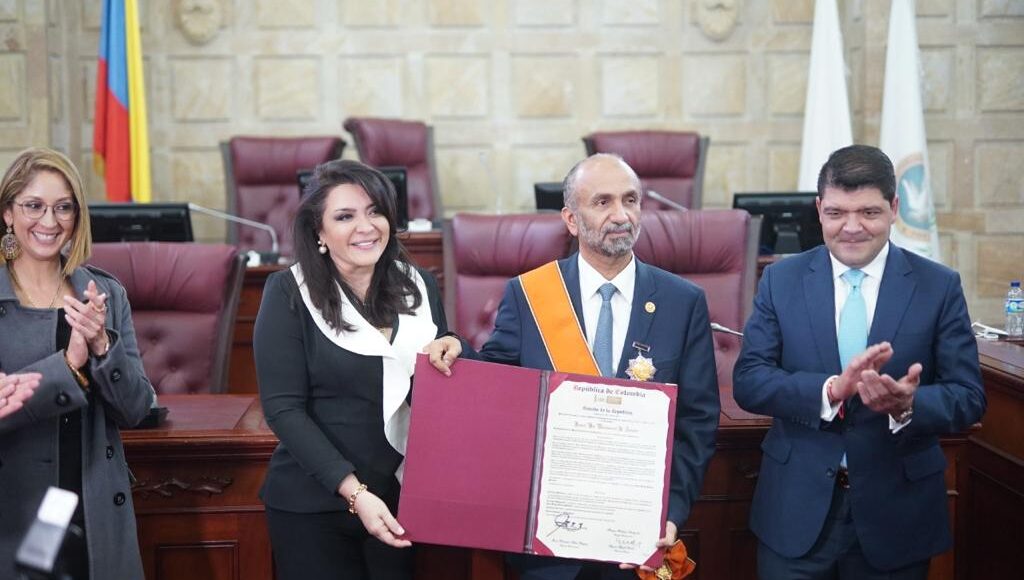 The Colombian Senate, represented by its President, His Excellency Mr. Juan Diego Gómez, honored His Excellency Ahmed bin Mohammed Al Jarwan, President of the Global Council for Tolerance and Peace, with the Order of the Colombian Congress, at the Colombian Congress headquarters in the Colombian capital, Bogota, and in the presence of the Speaker of the Colombian House of Representatives, Ms. Jennifer Arias.
The President of the Colombian Senate said that this honor comes in appreciation of Aljarwan's internationally acclaimed efforts in spreading and raising the values ​​of tolerance and peace, in addition to his various achievements throughout his rich career of excelence and honor.
The order patent certificate stated that Aljarwan contributed with his valuable efforts and great efforts in the positions he held, as President of the Arab Parliament and the General Union of Arab Experts, in defending human rights, promoting sustainable development and searching for a better and safer world and became a role model for Emirati citizens.
It also mentioned that, H.E. Ahmed bin Mohamed Aljarwan, who is currently the founder and President of the Global Council for Tolerance and Peace, was awarded this Order in appreciation of his great leadership and exceptional commitment to society, and that he deserved high honors, for what he presented during his extensive career as he painted an image of altruism based on moral values, solidarity and tolerance, which inspired his distinguished work.