Global Council for Tolerance and Peace discusses means of cooperation with the Serbian National Assembly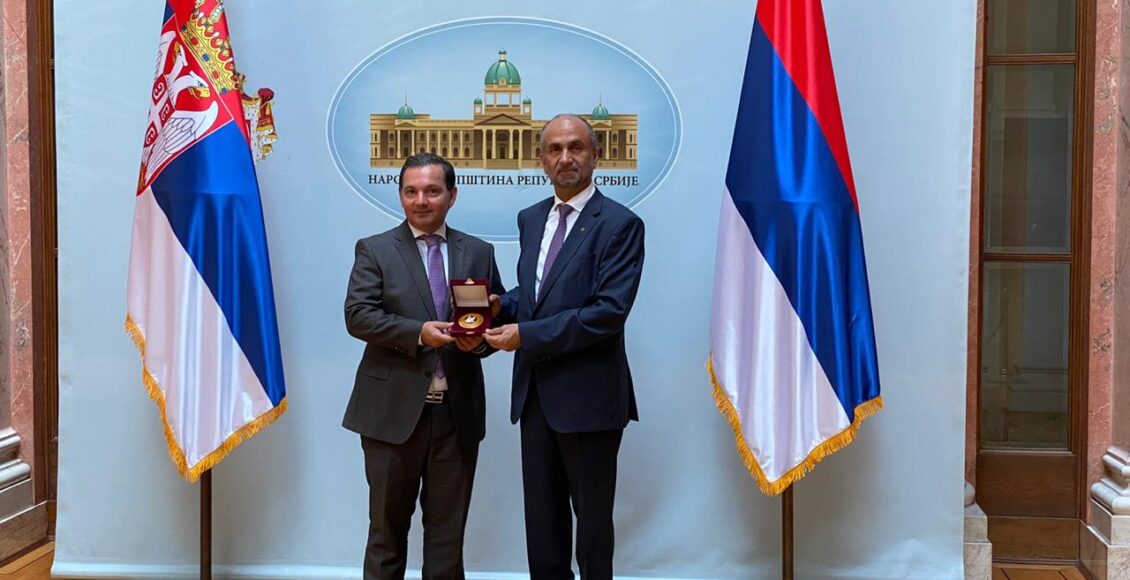 The Deputy Speaker of the Serbian National Assembly, His Excellency Prof. Dr. Vladimir Marinkovic, has received a delegation of the Global Council for Tolerance and Peace (GCTP), headed by the Council's President, His Excellency Ahmad bin Mohammad Aljarwan, at the Serbian National Assembly headquarters in the Serbian capital city of Belgrade.
The meeting was attended by the Ambassador of the United Arab Emirates (UAE) to the Republic of Serbia, His Excellency Mr. Mubarak Saeed Burshaid Al Dhaheri.
Mr. Marinkovic welcomed Mr.Aljarwan and the associated delegation, affirming his country's support to the persistent efforts of the Council in spreading tolerance and peace around the world. He also praised the role of the International Parliament for Tolerance and Peace (IPTP), one of the most important organs of the council, and the great role it plays in mobilizing parliamentary efforts to raise the values of Tolerance and peace among all peoples.
Mr. Marinkovic had officially joined the IPTP as the official representative of the Republic of Serbia which embodies one of the most specialized parliaments with the membership of 75 representatives of national parliaments from all around the world and is exclusively dedicated to promoting international tolerance and peace.
H.E. Aljarwan briefed Mr. Marinkovic about the work of the Council, its international parliament and its general assembly. Both have exchanged views and information on the current and future activities of the council. Furthermore, Aljarwan welcomed the support provided by the Serbian National Assembly for spreading the values of tolerance and peace.
Prof. Marinkovic also expressed his sincere congratulations to the United Arab Emirates on reaching the historic peace agreement with Israel.
Aljarwan, from his side, congratulated the leadership of the Republic of Serbia, its National Assembly and its people on the recently reached agreement of economic normalization with Kosovo which was signed at the White House on September 4, 2020.
He stressed that the Global Council for Tolerance and Peace highly appreciates the efforts of all countries to achieve tolerance, peace and harmony for the benefit of all nations and in a way that would achieve development and prosperity all around the world.