Four million UK children too poor to have a healthy diet, study finds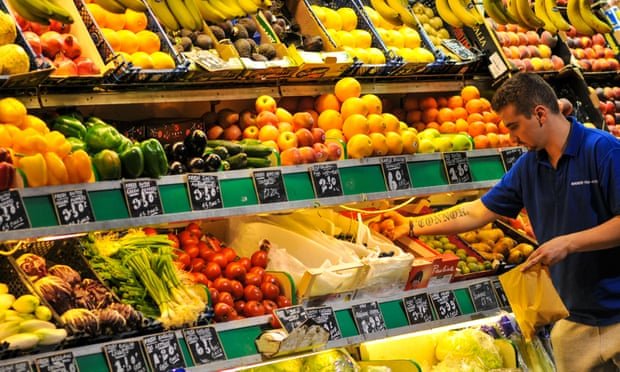 Food Foundation finds poorest families cannot meet healthy food guidelines of government
Almost 4 million children in the UK live in households that would struggle to afford to buy enough fruit, vegetables, fish and other healthy foods to meet the official nutrition guidelines, a groundbreaking food poverty study reveals.
The research, by the Food Foundation thinktank, says the diminishing ability of low-income families to pay for healthy food is consigning the least well-off to a greater risk of diet related illness, such as obesity and diabetes, as well as widening health inequalities across society.
The poorest fifth of families would have to set aside more than 40% of their total weekly income after housing costs to satisfy the requirements of the government's Eatwell guide, the study finds.
The authors of the report have called on ministers to increase welfare benefit payments and ensure healthy foods are made more widely available and affordable to low-income households, for instance through maternity food vouchers and universal free school meals.
"The government's measurement of household income highlights the fact that millions of families in the UK cannot afford to eat in line with the government's own dietary guidance," said Anna Taylor, the executive director of the Food Foundation. "It's crucial that a coordinated cross-government effort develops policy that accounts for the cost of its recommended diet and creates a food system that does not consign those on lower incomes to the risk of diet related illness."
The Eatwell guide, drawn up by Public Health England, defines the advised proportion of a diet relating to five categories: fruit and vegetables; carbohydrates such as potatoes, rice and pasta; proteins including beans, fish, eggs and meat; dairy; and oils and spreads.
The Food Foundation says its study is the first investigation into the extent to which typical UK households can afford to follow the guidelines. On official cost estimates, it calculates that a family of two adults and two children aged 10 and 15 would need to spend £103.17 a week on the food.
The official cost per adult of meeting the Eatwell guidelines is £41.93 a week. A household with two adults would need to spend £68.74 per week, the study calculates. A family of two adults and three children, aged two, five and eight, would need a weekly food budget of £111.35.
The study estimates that 47% of all UK households with children do not spend enough on food to meet the Eatwell cost targets, a proportion that rises to 60% for single parent families. Just 20% of households where the main earner is unemployed spends the recommended amount, it estimates.
The costs of healthy eating fall disproportionately on the poorest half of the population, for whom a healthy balanced diet would account for nearly a third of disposable income on average, the study finds. This compares with an average 12% of disposable income for the wealthiest half of households.
Households in the lowest two income deciles – earning less than £15,860 a year – would need to spend 42% of their income after rent, while those in the top 10% of incomes would need to spend just 6% of their disposable income, the researchers estimate.
Although the foundation is concerned about some households lacking cookery skills or access to shops selling fresh produce, it believes lack of money is the main driver of unhealthy eating. "Most people know what to do for a healthy diet, but they don't do it because the healthy options are not the cheap options," a spokesperson said.
The study comes as concerns rise about food insecurity (defined as an inability to afford to eat regularly or healthily) among the poorest households.
A parliamentary bill requiring the government to measure food insecurity, drawn up by Labor MP Emma Lewell-Buck, will get its second reading in October.
Income in poor households decreased by 7.1% between 2002 and 2016, the study says, while food prices rose by 7.7%. It says further price rises, triggered for example by Brexit-related fluctuations in the value of the pound, could leave a family of four needing an extra £158 a year to meet Eatwell standards.
"For households in the lowest income deciles who are already struggling to afford a healthy diet, this level of price increase will move the government's official dietary recommendations further out of reach," it says.
Last year, a Food Standards Agency survey revealed that four million UK adults said that they had experienced low or very low food security, meaning they had struggled to afford to eat healthily and, as a consequence, had skipped meals or reduced the quality of their diet.
Alison Tedstone, the chief nutritionist at Public Health England, said: "This report suggests £6 per day for an adult; we are currently spending about the same amount eating poorly. Our food choices are affected by other factors such as the volume of fast-food outlets on our streets and promotions of unhealthy foods in our shops, highlighting why our work to improve the nation's diet is so important."
The Labor MP Sharon Hodgson, who chairs an parliamentary inquiry into child food poverty, said: "It cannot be right that 50% of households in the UK currently have insufficient food budgets to meet the government's recommended Eatwell Guide."
The independent Food Foundation thinktank was set up by the former Conservative MP Laura Sandys and counts the public health expert Sir Michael Marmot and the mayor of London's food adviser, Rosie Boycott, among its trustees and advisors.
Case study
"I really try, and my kids eat well, but how we are eating is not how I would really like them to eat," says Elaine, 41, a married mother of four children aged four to 15 living in Thanet, Kent.
Elaine's weekly household food budget is £50 to £60 a week but, according to the Food Foundation, to meet the government guidelines on healthy eating she should be spending £131.28.
The former nursery nurse spends £8 a week on fruit, mainly apples, oranges and bananas, and keeps an eye out for bargain vegetables in her local Aldi and Tesco shops. A tight budget means she is adept at improvising at mealtimes and she sometimes go without meals so that her children can eat.
Her food budget can easily be knocked off course by other essential costs, such as the purchase of new shoes or school uniforms or extra heating during a cold snap. In some weeks, she thinks her food budget drops to £30.
When money is scarce, she buys items such as cheap sausages, bread and donuts, freezing them to make them last, even though she knows these are not healthy foods. "It's lots of carbs and sugar and salt but it is filling and it's cheap."
She hopes to return to work when her youngest goes to school this month but, for the moment, the family is benefit-capped – her husband had to give up work for health reasons – restricting her household income to £385 a week including rent and reducing her disposable weekly income by £95.
Ideally, she said she would spend a minimum of £120 a week on food for the family. She likes spinach, for example, and strawberries, but these are a rare treat. She would buy more salad and a wider variety of vegetables and "decent meat", she said.