Can Travel Aid World Peace? A New Postcard-Writing Campaign Says Yes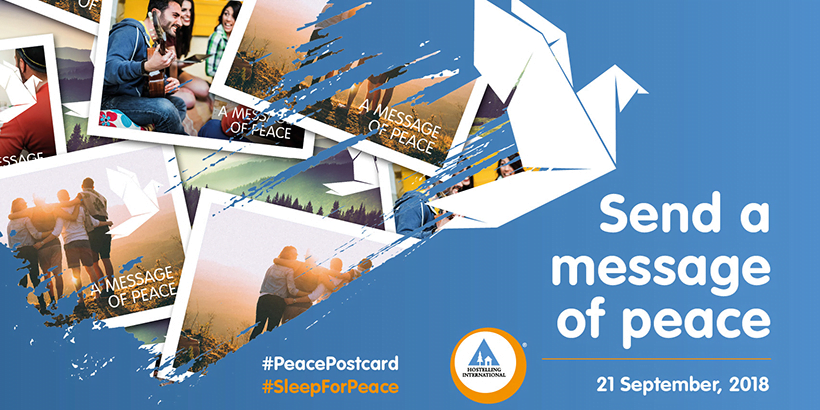 Travelers often return from their journeys with stories about how encounters with people they've met and experiences they've had along the way opened their minds and changed how they see the world. Now, a new global postcard-writing campaign embraces the idea.
The Peace Postcard Project, led by Hostelling International (HI), a collection of some 4,000 not-for-profit hostels in more than 80 countries, is based on the concept that travel has the ability to change people's perspectives, create better understanding, increase tolerance, and even help build peace.
Travelers from around the world will have the opportunity to share personal stories of how travel has transformed them when they attend Peace Postcard Parties scheduled at HI hostels in more than 30 countries (or participate from home), by writing and sending postcards to the United Nations (UN) on September 21, the day it commemorates the International Day of Peace.
"As a nonprofit with a purpose to create a more tolerant world, we know firsthand the transformative power of travel and its ability to break down cultural divides," Russ Hedge, chief executive of Hostelling International USA (HI USA), said in a statement.
HI USA, a network of hostels in converted mansions, reinvented lighthouses, and historic urban buildings that is part of Hostelling International (HI), is spearheading the campaign in the United States, where 29 Peace Postcard Parties are scheduled to take place at its hostels on September 21.
"The Peace Postcard Project unites voices from around the world in a joint belief that peace is possible and that travel can help make it happen," Hedge added.
To kick off the global celebration, the Deputy Secretary General of the UN World Tourism Organization, Jaime Alberto Cabal Sanclemente, will be the keynote speaker at the Peace Postcard Party on Thursday, September 20, at The Hat Madrid hostel.
A sampling of the postcards will be on display at UN headquarters in New York on September 24 as part of the official International Day of Peace programming.
There are three ways to participate:
Attend a Peace Postcard Party at an HI hostel on September 21. (Check in advance to make sure a party is scheduled)
Visit MyPostcard.com from anywhere in the world and have a postcard with a personal message sent to the UN at no cost.
Get on Twitter and tag @UN with #PeacePostcard (A follow up Twitter chat will be held on September 27, World Tourism Day, at 1pm ET.)
The Peace Postcard Project, part of HI's annual Sleep for Peace program, is expected to generate about 10,000 pieces of mail that will be sent to the UN from across the globe, its organizers said.