Berlin's children pile up teddy bears in solidarity with Syrian refugees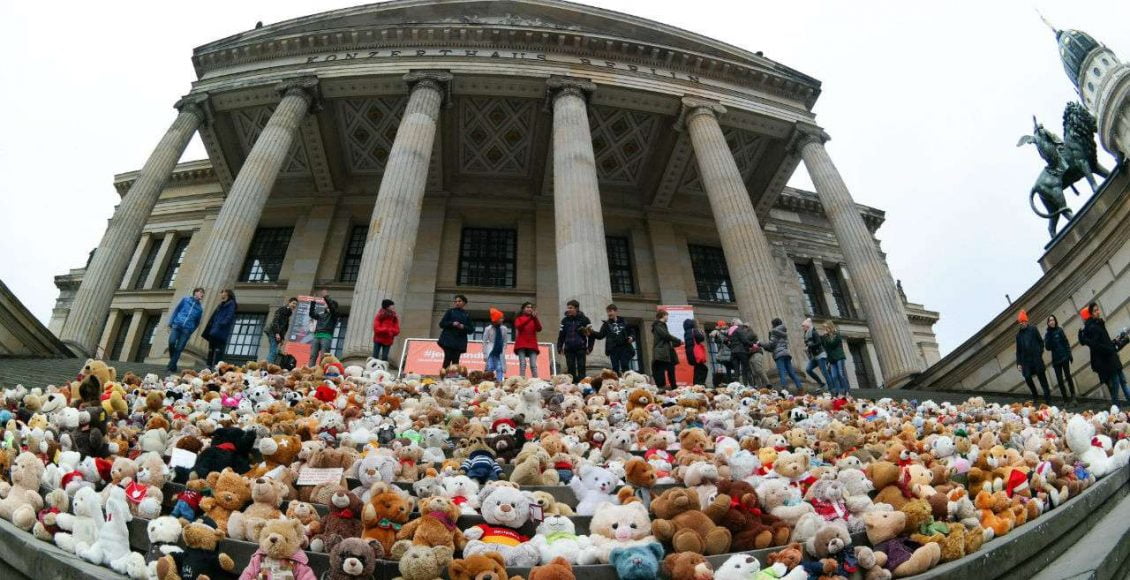 German school children made a giant pile of teddy bears in Berlin on Thursday, to show solidarity with the huge numbers of young Syrians growing up without an education, as the civil war entered its eighth year.
The children helped lay 740 teddies on the steps of Berlin's Konzerthaus, each one representing 1,000 Syrian refugees denied an education, many of them living in camps near the Syrian border.
There are more than 2.5 million Syrian child refugees, about 740,000 of them of school age but with no access to education, charity World Vision Germany said. The war has killed hundreds of thousands of people and uprooted 11 million.
"I have donated some of my old toys to a refugee camp near us," said Fee Muehlemann, an 11-year-old girl wrapped in a scarf and hat against the cold as she added teddies to the pile.
"You can help them by treating them normally, introducing them to daily life and giving the children of school age an education," she said.
Hussam Alheraky, an 18-year-old Syrian refugee, said: "It's the seventh anniversary of the revolution. This means something big: that the world didn't do anything. The world has no conscience."
Alheraky fled first to Jordan after his school was struck by missiles during his final exams.
After arriving in Germany in late 2016 and learning the language, he won a place in a selective high school in Stuttgart, but remains worried about the plight of those he left behind.
"There are people who are having children there. They are getting married and having children, there at the border," he said. "Of course those generations cannot write their own names."