Al Jarwan praises the invaluable role Played by the Kingdom of Bahrain and its wise leadership in championing and advancing the cause of volunteer work.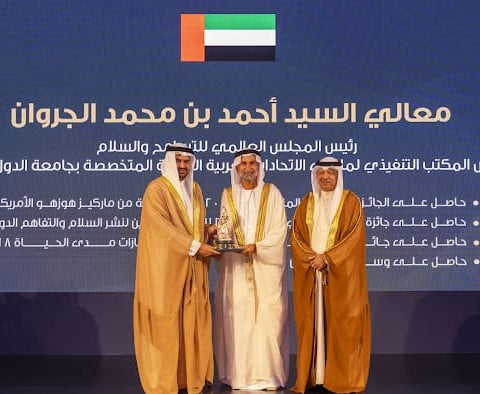 During the reception of the distinguished "His Highness Sheikh Isa bin Ali Al Khalifa Award for Voluntary Work" from the Undersecretary of the Ministry of Cabinet Affairs in the Kingdom of Bahrain, H.E. Ahmed bin Mohamed Al Jarwan, President of the Global Council for Tolerance and Peace, and President of the General Union of Arab Experts underscored the instrumental role played by the Kingdom of Bahrain and acknowledged the wise leadership of His Majesty King Hamad bin Isa Al Khalifa, the esteemed king of the Kingdom of Bahrain, and applauded the dedicated efforts of His Royal Highness Prince Salman Bin Hamad Al Khalifa, the Crown Prince and Prime Minister, in the support and promotion of volunteerism, both at the Arab and international levels.
He further expressed his deep appreciation for the notable award and underscored its profound significance as a powerful incentive for fostering and disseminating the culture of volunteer work. He highlighted its moral worth as a national and humanitarian obligation, paying tribute to the pivotal role played by His Highness Sheikh Isa Bin Ali Al Khalifa in advancing and nurturing the award over the past years.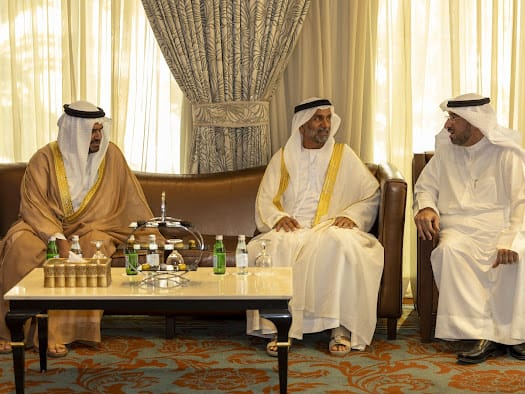 Additionally, Al Jarwan proudly acknowledged the robust bilateral relations between the United Arab Emirates and the Kingdom of Bahrain across various domains. He emphasized the pivotal role these relations play in reinforcing and elevating collective Arab initiatives. He lauded the commendable efforts of the Good Word Society and the Arab Volunteer Union for their significant contributions to the promotion of volunteer work within the Arab region.
It is noteworthy that the "His Highness Sheikh Isa bin Ali Al Khalifa Award for Volunteer Work" is conferred annually in September, coinciding with the celebration of Arab Volunteer Day. This prestigious award is organized collaboratively by the Good Word Society and the Arab Volunteer Union with the primary objective of inspiring volunteers to proffer innovative solutions through their dedicated service. Volunteerism is recognized as a vital means of addressing various challenges and crises while actively engaging individuals in the field of volunteer work and disseminating its cultural significance.