Creating prosperous, peaceful Africa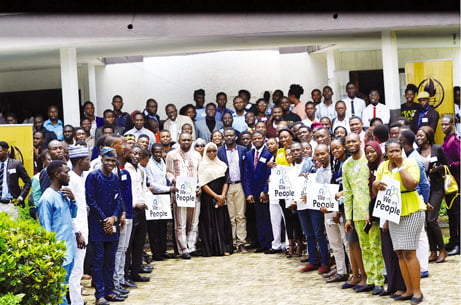 In the absence of peace, commerce suffers and conflict reigns. This is the case in many African nations, where the number of displaced persons is swelling because of preventable conflicts. How can the region be peaceful? This was the focus of a conference organized by the African Students for Liberty (ASFL) at the University of Ibadan (UI). It was attended by students and young professional from West African countries. OLUWAFEMI OGUNJOBI and HAMMED HAMZAT report.
The absence of peace leads to two possible outcomes – war and poverty. These two have become a common feature in many communities across the West African sub-region, leaving the governments and the people to grapple with a high poverty index.
Is there anything that can be done to achieve peace and put the sub-region on the path of prosperity?
This was the kernel of discussions at the just-concluded West African Regional Conference organized by African Students for Liberty (ASFL).
The Conference Centre of the University of Ibadan (UI), the venue of the event, was filled to capacity, as participants, comprising young professionals, students and freedom advocates from various countries in West Africa, filed into the hall to chart the course of peace in the sub-region.
What is the price of peace? Tolerance, says the founder of Global African Christians for Liberty Initiative (GACLI), Bishop Emeka Ezeugo. He charged the participants to promote tolerance as the panacea for peace to reign.
Tolerance, Bishop Ezeugo said, is the willingness of a people to respect and accept behavior, creed and way of life different from their own, even when they may not approve of them. The clergyman, who spoke on Tolerance, religion and politics, said the ability of a people to understand the world from other people's point of view and learning from their experience would reduce friction and conflict.
He said: "Humanity is one tribe before the Supreme Creator. But, our inability to accept differences in our religions, ethnicity and political creeds has led to violence and divisions among us, which results in poverty. Our ability to deal with something that is unpleasant or annoying to us, and to continue to co-exist together despite differences in our ways of life and conditions will lead to peace and prosperity."
The clergyman urged the participants to work for peace, noting that tolerance would give people an opportunity to learn from one another. A human society that embraces intolerance, he said, is doomed, adding that the people in such society would have their liberty and freedom threatened.
He said: "A society flourishes when tolerance is practiced as a virtue. Tolerance is key to promoting a free society. When people accept one another's differences, individual liberties and freedom are respected; such people prosper together. Tolerance does the work of peace because it naturally eliminates religious, tribal and personal conflicts."
Gabriel Okeowo, the Operational General Manager of BudgIT, an organization using technology to drive civic engagement, harped on the need to promote accountability in governance. He said the youth must keep public officers accountable at all time.
Noting that there was a missing gap in resources allocation and application by the public office holders, Okeowo observed that people are usually kept in the dark about what the government is supposed to provide and what the people are getting.
Lamenting that every household in Nigeria provides its basic needs, such as water, light, security and roads, he said it would amount to culpability on the part of the youth to look away when the resources to cater for their future are frittered away by government's officials.
Okeowo said young people's future could be in jeopardy if they fail to participate in civic engagement towards making the government accountable.
He said: "We have no other country. If we must make it work, the youth must exercise their civic actions and participate in the process of governance in which everyone will act as watchdog. Having active and responsible citizens who engage the leaders by placing demand to access government's documents gives hope in creating a free society we will all be proud of."
Project Coordinator of YouthRISE in Nigeria and West Africa Adeolu Ogunrombi called for what he called "sensible drug policy", noting that the recent ban on codeine by the government was an affront on individual liberty and users' freedom.
Ogunrombi, a drug policy expert, maintained that criminalization of those that abuse drug would not solve the problem of abuse. He said the government needed to look at the cause of abuse of drugs and measures to reduce demand for codeine before its total ban. He said effective drug policy must be proactive rather than reactive in nature.
Pamela Adie of Equality Hub Nigeria spoke on the need to create a society where sexual orientation would not be a parameter to judge people, but their character. She called for an end to discrimination against people with unconventional sexual orientation, saying everyone matters in achieving gender balance in Nigeria.
Speaking on Anticipating the future: A case study of Nigeria, Olumayowa Okediran, Assistant Director of International Programs for Students For Liberty (SFL), said only free market economy could guarantee West Africa's future.
He told the participants that free government had no business with creating corporation, adding that prosperous nations had their economies run by private individual and not the government.
Linda Kavuka, SFL's African Programs Manager, explained why many countries in Africa remained poor in her lecture titled: Free markets and African societies. She pointed out that many Africans were in confusion by misconstruing colonialism as capitalism, saying the former created the problems being faced by Africans; while the latter, she said, presents an opportunity to African countries to create wealth and reduce poverty.
She said: "Foreign aid have failed our continent because there is no input in form of contribution by the people the aids are intended to benefit. To a have virile and economically viable Africa, we need independent central banks, independent judiciary and free media among others. There must be democratization, market liberalization, diffusion of power and massive investment on infrastructures."
Wale Ajetunmobi, a U.S. Exchange Program alumnus, helped the participants to understand the nexus between Islam and free markets. He said Muslims had no excuse not to engage in trade, because the Prophet Muhammad's showed example through his action as at trader before and during his prophethood.
He cited various teachings of Prophet Muhammad to back up his claims about the need for the Muslims to engage in lawful economic activities.
Ajetunmobi said: "The idea that free market originated from the West was erroneously pushed down the throat of Africans. Free market is as old as humanity itself and has survived many civilizations. It has undergone several modifications to ensure it is open, free and profitable for the people."
About 400 participants from various walks of life attended the conference, which featured panel of discussion on entrepreneurship, activism, success stories and activities of young women in liberty movement across Africa.
In his address, the organizer and SFL's African Programs Associate, Oluwafemi Ogunjobi, appreciated the participants for "turning out massively" to the event despite the downpour that preceded the day.
The conference ended with training anchored by Temitope Saliu, which focused on how to use Google digital tools. She told the participants how they could use their digital skills to leverage opportunities on the Internet.